Sun
Mon
Tue
Wed
Thu
Fri
Sat

1

2

3

4

5

6

7

8

9

10

11

12

13

Kowloon Shangri-La Hotel

Peace Building in Rotary / PP Mitzi LEUNG

Date :

13 March 2023

14

15

16

17

18

19

20

Kowloon Shangri-La Hotel

Importance of being a Rotarian … / PDG Eugene FONG

Date :

20 March 2023

21

22

23

24

25

26

27

Kowloon Shangri-La Hotel

Orthopaedic / PDG Eric CHAK

Date :

27 March 2023

28

29

30

31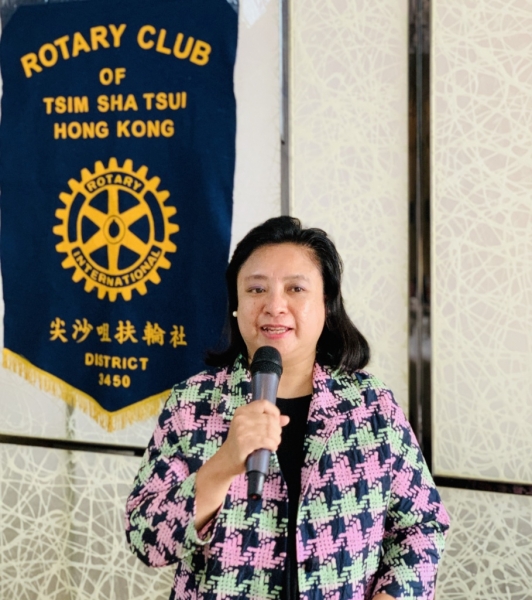 Date:
02 March 2020
12:45
-
14:00
Place: Hotel Panorama, 8A Hart Avenue, TST, Kowloon (Exit N1, TST MTR Station) | City: Hong Kong, Hong Kong
Speaker: Ms. Iris CHANG
Speech Title: Managing Novel Coronavirus Outbreak in Hong Kong and Health Crisis Preparedness in the Community
Lunch Fee: HKD330
About the Speaker :
Ms. Iris CHANG is a registered Pharmacist in Hong Kong and USA and specialize in Infectious diseases. She has been awarded with the Distinquished Pharmacist Award by The Practising Pharmacists Association of Hong Kong for her exemplary leadership of the pharmacy profession and has been honored with the Honorary Member Award by the Royal Pharmaceutical Society (UK ) for her excellent achievements to promote the safe and quality use of medicines in Hong Kong and around the world.
She is currently the President of the Hong Kong Academy of Pharmacy which is a professional body of professional pharmacists providing advanced practice and specialized pharmacy services to patients in Hong Kong. She is a celebrated pharmacy leader that is recognized by the local and international press and media as a key opinion leader in healthcare and has conducted over 100 television, radio, and newspaper interviews about hot issues in health and disease management.
Her leadership, professionalism, and creativity has enabled many new services to be brought to Hong Kong for the betterment of patients and the community. Iris's contributions to society especially during health crisis caused by global pandemics has been recognized by the Chief Executive of the HK SAR and the World Health Organization ( WHO ) where she was part of the WHO global leadership team to support the management of the Ebola outbreak and the subsequent development of the Ebola vaccine.
Iris has pioneered many novel and innovative healthcare services to improve the safety and quality use of medicines by the population in Hong Kong including the Medication Check Up and Clean Up Program, Flu information center, Travel Healthcare Planning Services, and Vaccination planning services for children, adults, and elderly.
Email
This email address is being protected from spambots. You need JavaScript enabled to view it.
Address
8A Hart Ave, Tsim Sha Tsui
Hong Kong, Hong Kong

All Dates
02 March 2020

12:45 - 14:00